Main content starts here, tab to start navigating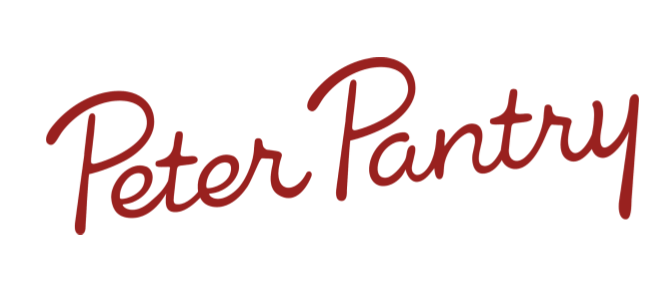 Marinated Mixed Olives

100 g

$5

dairy free, gluten free

Scones

6 scones, ready to bake

$14

Oven Ready Chocolate Chip Cookies

6 x cookies

$9

Mixed Berry Jam

250 ml

$6

dairy free, gluten free
Cheese & Charcuterie
Charcuterie Trio

Three gourmet cured meats, pickled vegetables, mustard, chutney

$21

dairy free, gluten free

Cheese Plate

Three gourmet cheeses, mixed nuts, honey, mustard and fruit preserve

$21

gluten free
House Vinaigrette

500 ml

$9

dairy free, gluten free

Caesar Dressing GF/DF

1/2 litre

$11

dairy free, gluten free

Pickled Vegetables

500 ml

$9

dairy free, gluten free

Lemon Vinaigrette GF/DF

1/2 litre

$9
Dishes that are gluten free (gf) and dairy free (df) are indicated.
Peter Pantry is not a nut free facility and dishes may contain traces of nuts and other allergens.
Please indicate in your order any dietary restrictions/allergies or contact us directly.
Salads for Two
Nicoise Salad

Seared rare albacore tuna, yellow & green beans, tomatoes, nicoise olives, hard boiled egg, purple potato, house vinaigrette.

$28

dairy free, gluten free

Kale Chicken Caesar

Organic baby kale, sous vide cooked chicken breast, bacon, shaved parmesan with roasted garlic Caesar dressing.

$28

gluten free

Chopped Salad

Organic spinach, red onion, cucumber, tomatoes, radish, feta cheese, chickpeas with a house vinaigrette.

$24

gluten free

Super Green Salad

Organic arugula, asparagus, peas, zucchini, sugar snap peas, green goddess dressing, pumpkin seeds.

$24

gluten free
Dinner for Two
Duck Confit with Summer Cassoulet

Two confit duck legs, white beans, peas, corn, green & yellow beans, jus (serves 2)

$53

dairy free, gluten free

Braised Octopus

Sous vide cooked octopus, piperade, olives, cauliflower, purple potatoes, chickpeas (serves 2)

$58

dairy free, gluten free

Spatchcock Chicken Dinner

Sous vide cooked spatchcock marinated whole chicken, onion, zucchini, eggplant, cherry tomatoes, Israeli couscous, za'atar (serves 2)

$47

Beef Short Rib Dinner GF/DF

Two 8oz sous vide cooked beef ribs, sauteed mushrooms, asparagus, fingerling potatoes (serves 2)

$52

dairy free, peanut free

Wild Mushroom Risotto

Morel mushrooms, corn, white wine, parmesan (serves 2)

$32
Brunch
Scones

6 scones, ready to bake

$14

Granola

500 ml (contains nuts)

$8

Shakshuka Breakfast (serves 2)

Poached eggs, shakshuka, labne, za'atar, fresh bread

$21

Eggs Benedict

Poached eggs, crumpets, house-made hollandaise

$21

Bacon (150 g) $8

Cured Salmon (90 g) $8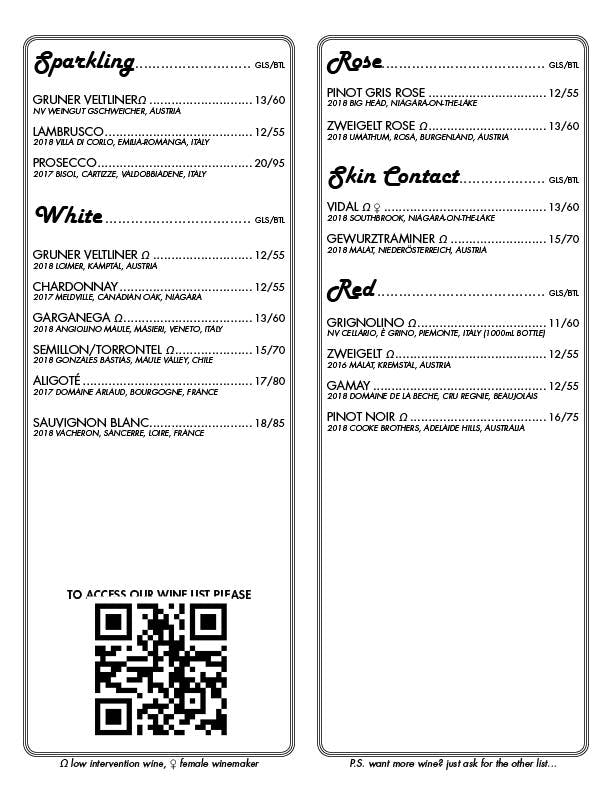 AGCO dictates that all alcohol purchases must include food in the order and must be collected by the person who purchased it.
Monkey 47 Gin 373mL

$65

Whitley Neill Blood Orange Gin 750mL

$50

Whitley Neill Rhubarb & Ginger Gin 750mL

$50

Whitley Neill Raspberry Gin 750mL

$50

Finoccheitto del Giglio Liqueur 500mL

$70

Cocchi Americano 750mL

$60

Amaro Etrusco 700mL

$60

Fernet Francisco 750mL

$70

Amargo-Vallet 750mL

$55

Fernet- Vallet 750mL

$60

Branca Menta 500mL

$35

Vilmart & Cie Ratafia 700mL

$80