Main content starts here, tab to start navigating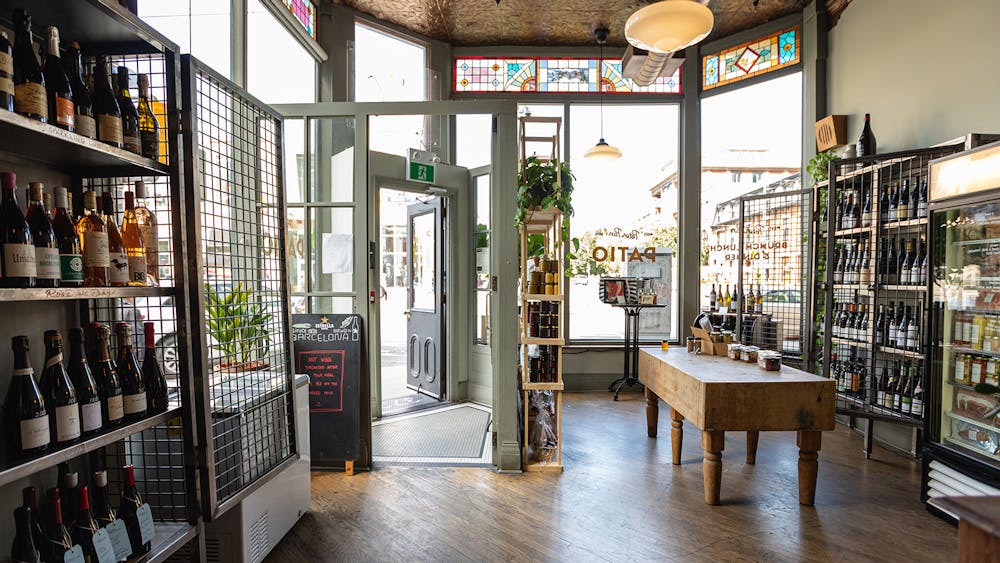 Peter Pantry will be located next to our Restaurant at 371 Queen Street (Opening September 2021).
It is your one-stop retail shop for Wine, Cocktails and Larders Item. Come in for a coffee and take a bottle of wine home for dinner. We aim to help you with any of your gastronomic needs.
Peter Pantry will be open 7 days, 8am-Midnight. We have a small bar for you to sit and enjoy a coffee or glass of wine, have a snack and browse our retail shop for a bottle of wine, a cocktail, a book or a Pantry Treat.

Check out www.peterpantry.ca for more information.
Newsletter Signup
Lunch is served Wednesday to Friday from 11:00 a.m. to 3:00 p.m.
Starters
Cheese

A selection of three or five cheeses

$24

Charcuterie

A selection of cured meats

$24

Ontario Carrot Salad

Heirloom Carrots, Pumpkin Seeds, Labneh, Herbs

$14

Caesar Salad

Baby gem, croutons, bacon, radishes

$14

Burrata

Burrata, Peaches, Beets, Basil, Sourdough

$18

Heirloom Tomato Salad

Baby heirloom tomatoes, avocado mousse, mozzarella, pickled shallots

$14

Mushroom Crème Brulée

Truffle, Mushrooms, Sourdough

$16

Chicken or Steak May Be Added to Salads
Main Courses
Grilled Cheese

Bacon, cheddar, tomato jam, fries

$19

Avocado Sandwich

Avocado, confit tomato, fries

$18

Mussels and Fries

$22
2x8oz Sous Vide Beef Ribs

$29

dairy free, gluten free
Brunch
Served until 3pm
Fresh Baked Scones

Two Scones with Jam and Cultured Butter

$9

Eggs Benedict

Two eggs on a house-made crumpet with bacon, lox or avocado, served with breakfast potato and salad

$18

Add Lox or Peameal Bacon $4

Classic Breakfast

Two eggs, breakfast potato, toast, salad with your choice of bacon, avocado, peameal or lox

$15

Substitute Peameal or Lox $4

Pancakes

served with seasonal compote, butter & maple syrup

$16 per Full Stack

$10 per Half Stack

Omelette

smoked salmon, chive, goat cheese

$17

Shakshuka

Two sunny-side up eggs, shakshuka, labne, za'atar, toast

$16

Granola and Yoghurt

served with a drizzle of honey

$14

Breakfast Sandwich

Egg, bacon, cheddar, tomato jam, arugula, garlic mayo, fries.

$21

Pan Burger

Beef Patty, Cheddar Cheese, Tomato Jam, Garlic Mayo & French Fries

$21
Starters & Snacks
Sourdough & Herb Butter

Herb butter and Confit Garlic

$6

Beef Tartar

Toast, Cornichons, Smoked Mustard

$17

Ontario Carrot Salad

Carrots, Pumpkin Seeds, Pickled Ramps, Labneh

$14

Burrata

Burrata, Peaches, Pickled Beets, Pesto, Sourdough

$18

Truffle Crème Brulée

Crostini & Pickled Mushroom

$16

Tomato Salad

Baby Heirloom Tomatoes, Avocado Mousse, Fresh Mozarella, Pickled Shallots

$14

Ceaser Salad

Baby gem lettuce, radish, croutons, bacon

$14
Desserts
Madelines

With Seasonal Jam

$9

Cheesecake

Strawberries, Shortbread Crumble.

$13
Mains
Mussels & Fries

Salt Spring Island Mussels, Corn, Potatoes, Pearl Onions, Ancho Butter Sauce and Cilantro

$22

Pan Burger

House tomato jam, aged cheddar, pickles, garlic mayo and fries.

$21

Strip Loin

Pommes Dauphine, Veal Jus.

$34

Ontario Trout

Cider Braised Cabbage, Maple Parsnips, Buerre Blanc, Candy Cane Beets.

$28

Duck Confit

Pommes Anna, Maitake Mushrooms, Brussels Sprouts, Cipolini Onion, Sherry Jus

$29

Roasted Wild Mushrooms

Morels, Mytaki, King Oyster, Truffle, Asparagus, Sourdough

$21

Seared Scallops

Nova Scotia Scallops, Squash and Garam Masala Purée, Charred Corn, Jalapenos, Radishes, Pickled Shallots, Cilantro

$32